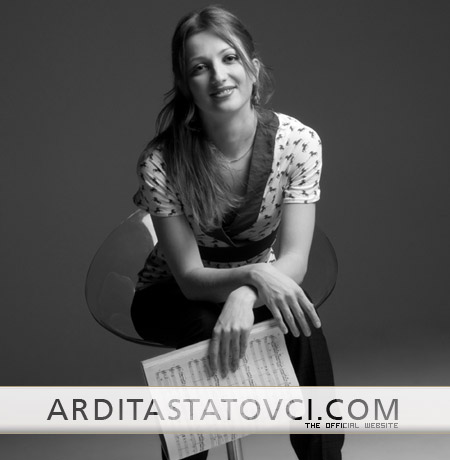 ARDITA STATOVCI
praised by the press as "an honest, clear, very touching interpreter and a pianist with super elitist qualities" was born in Prishtina as the youngest daughter of two University Professors. Statovci started learning the piano in her hometown with Lejla Haxhiu-Pula and Hadije Gjinali completing several times two grades in just one school year while at the age of fifteen (15) she was admitted at the Mozarteum University in Salzburg/Austria. In december 2007 she earned her Master (Magistra) of Arts degree with the highest distinction in the concert-class of Christoph Lieske.
In 2009 Ardita has studied with the legendary Menahem Pressler at Indiana University in Bloomington. While in Italy she completed her Postgraduate Studies at the Imola Accademia Pianistica with Boris Petrushansky and Franco Scala.
She has performed throughout Europe, USA and Asia including Austria, France, England, Utah, Kosovo, Sweden, Vermont, Macedonia, Italy, Croatia, Switzerland, Bosnia, Spain, Germany, China, Slovenia, Albania, Hungary, Indiana etc. as a soloist with different orchestras (Mahler Chamber Orchestra, Mozart Orchestra (Bologna), Deutsche Kammerakademie Neuss, Haydn Orchester (Bolzano), Wiener Sinfonietta, Kammerorchester "Cis", Kosova Philharmony, Bad Reichenhaller Philharmonie, Albanian Radio Television Orchestra, JSO Bern etc.), giving piano recitals and also playing chamber music. Numerous TV and radio recordings of her performances have been broadcasted (RTK, ORF/Ö1, RAI)
She completed master classes with Peter Donohoe, Paul Badura-Skoda, Peter Lang, Elisabeth Leonskaja, Stefan Arnold, Cyprien Katsaris, Thomas Larcher, Dubravka Tomsic, Carmen Piazzini, Riccardo Risaliti, Norman Shetler and others.
For her outstanding achievements as a young artist, Statovci was distinguished several times with scholarships and prizes from the Society for Music Theatre in Vienna, by the Austrian Federal Ministry for Education, Arts and Culture (bm:ukk), from "Internationale Mozarteum Stiftung" in Salzburg, Piano Academy Birmingham/England, Fohnstiftung, University Mozarteum/Salzburg, Land Salzburg as well as by the Austrian Federal Ministry of Science and Research (BMWF). Ardita was granted the Austrian Citizenship.
She also was awarded and won prizes at Competitions like the Yehudi Menuhin Live Music Now in Salzburg, "Bösendorfer Prize" at the Mozarteum University, International Competition Rotaract in Spain, "Talent of Kosovo", International Ibla Competition in Italy etc.
In 2008 has been released Ardita Statovci's CD (a live recording with works of Brahms, Beethoven and Dutilleux). 2010 Statovci was giving a very successful performance of Shostakovich's 1st Piano concerto together with the trumpet player Tine Thing Helseth at the Konzerthaus Dortmund in Germany gaining outstanding critics from the german press.
She is being nominated by "Steinway & Sons" as a Young Steinway Artist.
Statovci is continually working together with one of the most well-known european conductors, Gustav Kuhn.
In 2011 she replaced Martha Argerich with the Ravel Concerto, during the rehearsals with Claudio Abbado and the Mozart and Mahler Chamber Orchestra in Ferrara, Italy.
Recently Statovci has given a highly acclaimed recital concert-tour throughout China.
Press Reviews
"The way Ardita Statovci plays Bach, is like creating a perfect balanced sculpture. What sounds at the end, is no longer only musical text, no longer a rigid work of art, but it is pure vitality, joy of life and deep sensation....the virtuoso, high intelligent pianist, full of childlike joy, plays with the music, invites it, makes it dance, sing and tremble thoroughly" (Passauer Neue Presse, September 2013)
"And finally Johannes Brahms Variations and Fugue on a Theme by Händel op.24, where Ardita Statovci is brilliant, avoiding completely showing off, with mature technique, differentiated creative power and absolute devotion." (Passauer Neue Presse, September 2013)
"...an extraordinary evening with an artist for whom all doors are open." (Passauer Neue Presse, September 2013)
"energetic is the touch of the excellent pianist, but very sophisticated, while on the first movement (Schostakovich 1. Concerto), her passages are like pearls.." (Westfälische Rundschau Waz-March, 22, 2010)
"..Statovci scored with explosive, full of energy and a pearls clear "Stringsclang" of an elitist quality. Somewhere between the works, it was a pearls crystal playing of the Mozart Sonata KV 576." (Balduin Sulzer, Kronen Zeitung, Jan, 2010)
"one should remember the name Statovci" (Ch. Grubauer, Volksblatt , Jan. 2010)
"..the [Trompetist] was attached by "lust" of music making Ardita Statovci's, an excellent pianist." (Ruhr Nachrichten, Dortmund, March, 22, 2010).